Europa Universalis III: Divine Wind announced
Not quite as "Complete" as we thought, the fourth expansion arrives for Europa Universalis III!

NEW YORK – September 9, 2010 – In response to the clamor from its loyal fan base, and because three expansions just didn't seem quite enough, Paradox Interactive are happy to announce that Europa Universalis III Divine Wind, the fourth and latest expansion to its Grand Strategy Game Europa Universalis III, will be releasing this December.
The fourth expansion to the classic historical strategy epic, Europa Universalis III Divine Wind is set in the Far East and will enhance every aspect of the original game to create an even deeper and more rewarding experience. Requiring Europa Universalis III Complete as well as the Heir to the Throne expansion to play, Divine Wind introduces a new graphical style, a more detailed map, and a wealth of new oriental provinces to control.
View teaser trailer:
http://www.youtube.com/watch?v=BHmrMHgw6uc
Features:
■Play as one of four major daimyo's in Japan vying for influence over the Emperor and control over the Shogunate
■Enhanced diplomacy with more options for alliances and peace negotiations
■Dozens of new culture-specific building types allowing greater control over the development of provinces
■More realistic development of trade
■Manage the internal factions within China to keep the Mandate of Heaven
■Over 50 Achievements for players to unlock
■Multiplayer for up to 32 players
■Requires Europa Universalis III Complete and the expansion Heir to the Throne in order to play
For more information, please visit www.paradoxplaza.com or follow the game on www.twitter.com/E_Universalis and join the facebook community www.facebook.com/EuropaUniversalis


Paradox Interactive launches print-on-demand service
New store for purchasing printed strategy guides open at GameGadgets.com
NEW YORK, March 19th 2010 – Paradox Interactive launched today a new service called GameGadgets, which allows gamers to purchase strategy guides for Paradox Interactive's games. The first product is the official strategy guide to "Europa Universalis III: Heir to the Throne". The service can be accessed from www.GameGadgets.com . Order processing and printing is currently handled by Lulu.com, a popular online print-on-demand service.
"We consider this an experiment to see what interest people have in physical products related to our games. If it's successful, we might consider expanding the product line", says Fredrik Wester, CEO of Paradox Interactive.
The Heir to the Throne strategy guide is a detailed guidebook with 112 pages jam packed with details about the game and how to play it successfully. It also contains historical notes on the Renaissance period, including the Holy Roman Empire and the English Civil War.
The strategy guide available for free for players who have a registered copy of Heir to the Throne on the Paradox forums: http://forum.paradoxplaza.com/forum/showthread.php?p=10906344#post10906344
The book is written by Ed Hanks who has written numerous strategy guides for Paradox Interactive, starting with the Europa Universalis III: Collector's Edition guidebook back in 2006.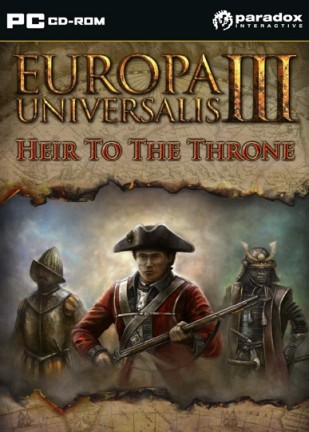 The race for Europa begins with pre-orders for Heir to the Throne
NEW YORK – December 3 2009 – Today, Paradox Interactive announces that Heir to the Throne, the third expansion for Europa Universalis III is now available for pre-order via www.gamersgate.com. The game will be available on December 15th on all major digital distribution outlets.
The historical strategy game now features new content and features across the board including:
- Brand new Casus Belli system, where wars have specific goals from start to finish.
- Monarchs now belong to dynasties, with new influence on the diplomatic model.
- Increased Holy Roman Empire and Papacy options for more powerful ruling
- New diplomatic options for Merchant Republics.
- Enhanced "Cultural Tradition" and recruitment of specific advisor types.
<< Start
< Prev
1
2
3
4
5
6
7
8
Next >
End >>
Results 16 - 20 of 37